Welcome
To the electronic home of the National Butterfly Association, and the sailboat it represents, the Butterfly. On this site you will find information on the Butterfly sailboat and the class Association, including historical records, recent class news, upcoming National Events, Results, Boats and Parts Wanted and For Sale in the Exchange, and details on the boat itself including builder information and parts prices.
---
2014 Dates to Know, Places to Go!
Colorado Butterfly Championship, Union Sailing Club, July 22.
Butterfly Single-Handed Nationals, Long Lake (WI) Yacht Club, June 20-22, Saxeville, Wisconsin. Notice of Race , Entry Form , and Regatta Flyer
Butterfly Junior and Open Nationals, Glen Lake Yacht Club, July 15-17, Glen Lake Michigan
We will post and activate links to NORs and entry forms here as they become available.
---
Len Dolhert, still Colorado State Champ
The 2013 Colorado Butterfly Championship at Union Reservoir on Sep 8, was typical mountain wind - 4 races of nothing or less, from wherever, and three more races with almost steady direction, one even enough to sit up on high side! Len won 2 races, the first and last of the day, light air wizz Christy Taylor won three in a row, and Jim Young won the two that actually had wind.
The fleet of 19 included 3 who sailed in the 1971 Butterfly Open Nationals in Aspen, Christy Taylor, Jim Brown, and Jim Young.
Taking home hardware were Cliff Lester (top junior), Christy Taylor (top woman), Jim Young (top master), and overall winners Robert Pincus (third), Tim Everett (second), and Len Dolhert (first). Results at USC web site .
---
Do you know how close 2014 is already?
Start planning, the class will be traveling to a new lake, Long Lake Yacht Club of Wisconsin, for the Singles, and we'll be back in the heart of the Cherry Republic at Glen Lake for the Open and Junior Nationals. Watch here for dates and more information as it becomes available.
---
Colorado's Jim Young & local Junior Zach Wiggins take home the top prizes from the Open and Junior Nationals at Torch Lake MI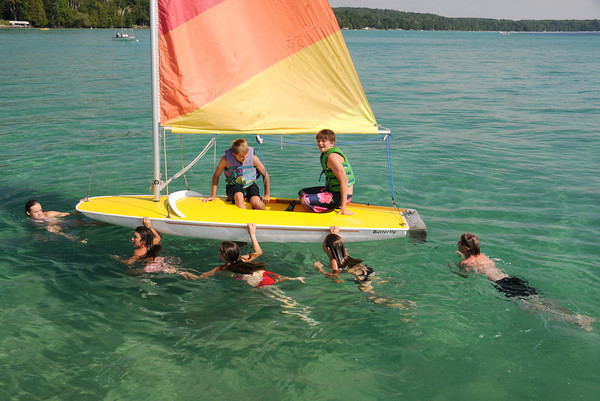 Hot hot hot. And Humid. And No Wind in the mornings. BUT we were at Beautiful Torch Lake, where the swimming was always great!
Over 50 boats preregistered, most went on the water for the Tuesday afternoon Tune Up race, when the wind finally arrived. It was enough to sit up on high side, not a light-air drifter, so it was good sailing. The PRO, Eric Lind, treated the fleet to a practice start, before getting everyone off in a wind that shifted to the right. In a preview of the final results (no, its not bad luck to win the tune-up race) Jim Young won, with Frank Reeg close behind, and the rest of the the fleet trailing at a distance.
Wednesday forecast, more hot, more humid, maybe (or maybe not) a bit more wind.
With 23 boats in the Open and 38 in the Juniors the racing got underway... slowly. In winds of light to nothing, the race committee kept setting marks but could only show two races for the Juniors on Wednesday. The first race was just a hint of how bad it could be, as only 14 boats finished within the 20 minute time limit of the winner, Fielding Schaffer from Glen Lake. Race 2 was somewhat more consistent, with Olivia Windemuller from Spring Lake leading most of the race to the finish.
On Thursday, the RC chased wind all over the lake, as mystery puffs woud blow from the south, north, southwest, then northeast. The one race in good wind had to be abandoned because a fishing boat trolling with deep outriggers fouled the anchor line of the windward mark and made a mess of the fleet! And another atempt was abandoned with no boat making it to the windward mark in the 30 minute time limit. When a race was finally completed, it was local Zach Wiggins winning, with Olivia second, good enough for Zach to win by 2 points over Olivia in a confused, shortened light air series.
In the Open, Wednesday brought a bit - but only a bit - more wind than the Juniors had, but with strange and magical shifts. The bit more wind pressure, and shifts, created wave patterns with no rhythm making it very difficult to maintain speed. The light-weights were at a huge advantage, and they took advantage of it, with locals Wade Lorimer and Tommy Nordberg winning the first two races before a slightly larger body made it to the front, with Frank Reeg winning race 3.
Thursday, the Open sailors waited. and waited. and waited on shore, while the RC kept trying to get another Junior race finished. When the RC gave up on that and called the Open fleet out, it was after 3:30 - and the the wind arrived, gradually increasing for three interesting races. The stronger wind was very welcome, but it still had mystery shifts and holes hidden in it. Jim Young figured it out first, winning the first race, then coasting to a pair of seconds, behing Sam Ranston and Frank Reeg, in the last two races. The stronger winds were enough to put those three boats, Young, Reeg, and Ralston, in 1-2-3 order in the final results.
Olivia Windemuller (photot right) took home the Women's Championship trophy, while Glen Lake's Gray Raymond took both the Youngest Skipper and the Teddy Knape Memorial for best result 12 yrs and under. And the whole fleet from Grand Rapids was awarded the Warde Pierson Traveler Trophy.
Thanks to everyone in Dan Lorimer's gang of staffers, and especially Dan himself, for another good time (the swimming was great during the long waits for wind!!) at beautiful Torch Lake.
Photos!! Lots of great shots, all by Lisa Powell who has photographed previous Butterfly Nationals, at her web site, click here to see your favorite sailor. Photos here also by Lisa.
---
Rules Rules Rules
Have you read the Rules? Do you know why we have Rules?
Racing in a sailboat is governed by Rules, two sets of Rules that everyone who races needs to know. The set of Rules that governs our behavior on the water is called the Racing Rules of Sailing. These Rules tell us what to do when we meet, encounter, or hit, another boat while we are Racing, and just as anyone driving a car on a road needs to know the laws, anyone sailing in a race needs to know these Rules. Because just like the laws on the road, the most important purpose of the Racing Rules is to prevent collisions. For younger sailors especially, its important to understand this basic concept, the Rules are there to keep boats from hitting each other. Every sailor in a race needs to know who can keep going and who has to 'give way' whenever two or more boats come together. If you don't know the Rules, you run the risk of at least getting disqualified in a race if you hit someone else when you are wrong, and even worse, you are at risk of having to pay for any damages! Learn the Rules not to be a lawyer, but to be safe on the water.
The second set of Rules is the Class Rules. In most of small-boat sailing anywhere in the US, we are sailing in what are known as 'One-Design' sailboats (Butterfly, Opti, Laser, Sunfish, C420, etc). "One-Design" means that as much as possible, all of the boats are alike so that the difference on the race course is sailing skill, not how much money was spent on the boat, sails, magic rigging, expensive compasses or other gadgets. The goal is so that you don't have to have more money, or know more secret rigging tricks, you just have to sail better to beat someone else in a race.
The Butterfly Class Rules are pretty clear; if it doesn't say that you CAN do it, then you can't! For example, you can't make and race with your own centerboard. And you can't get a custom sail from any sailmaker, new sails have to come from an autorized Butterfly parts dealer.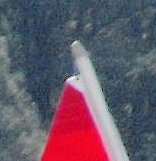 That is so all sails are identical. Then you can't tie the sail to the mast and boom any way you want, you have to use the supplied fittings -because doing it any other way is not mentioned, and because doing it any other way would violate the basic principle, that all boats are the same. There is one further requirement specified in the Class Rules, that the boat is to be raced with the sail fully hoisted. That means that it has to be at the top of the mast. It is a known problem that the halyard cleat sometimes lets the halyard slip, so for boats with cleats, its usually best to give a gentle warning if you see it, and then check your own as well - sometimes, to be sure, you might even have to tip your boat over at the dock or beach to push the halyard into the cleat firmly. But if you see a boat with the old-style mast head hook that firmly holds the halyard, then its time for a protest not a warning, that sailor deliberately set his/her sail below the top of the mast. And a huge hint, something discovered in ancient times, back in the 1960s, is that a halyard that is not firmly cleated at the top of the mast is much more likely to bend or break the mast. So always make sure that your halyard is cleated, not just for the rules, but for your mast.
Another area in the Class Rules that has been revised in recent years has been the Bridle. The Rules never said anything about Bridles, but over the years a lot of sailors made temporary bridles from rope after an old wire bridle broke, so the class finally changed the rules to clearly ALLOW rope - BUT with two limitations, the bridle may NOT be adjustable while racing, and the minimum height of the bridle in the center is set at 4 1/2".
One other point to be aware of - you may get protested, but a friendly warning is more likely - is about sail numbers. If any of you have spent time in the Opti class, the Butterfly is MUCH more relaxed about numbers, but there are still rules to follow. And it will surprise most sailors to discover that for most boats (other than Optis!) those rules about numbers are in the Racing Rules of Sailing, not in the Class Rules. Briefly, the numbers have to be the same color and same size, with the numbers on the starboard side of the sail above the ones on the port side. The 'standard' location for Butterfly numbers is 1 to 2 inches above and below the seam that is between the two lower battens, and 6 to 8 inches from the leach. Butterfly numbers are 10" high.
Read the Rules, both the Racing Rules and the Class Rules, and be better prepared to sail right and sail well, without worrying about protests.
---
Peckover Takes Home The Hardware at the 2013 Singles
Doug Peckover, Dallas, TX, took home the majority of the hardware from the 2013 Butterfly Single-Handed Nationals on June 19-21. Hosted by Spring Lake Yacht Club in Michigan, the turnout was surprisingly light, with only 18 boats registered. But they were treated to a full 7-race series, typical summer thermals on the first day, and nasty, shifty, puffy, strong winds on the second day.
The usual tune-up race the day before racing officially began was in bright sun and nice light-moderate winds, and was won by former Junior National Champ Geoffrey Nelson, from Heath, TX, as a way to celebrate his last day as a Butterfly class Junior.
The official racing began Thursday with a postponement for lunch, as the breezes that hinted at a filled sea breeze turned out to be nothing but teasers. After Lunch, the Race Committee headed by PRO Peter Blacklock, managed to chase the windshifts enough to get in 4 good races. Each was won by a different sailor - Isaac Kremers from Grand Rapids showed his speed with his win in the first race, with Paul Miller (Dallas), Geoffrey Nelson, and Doug Peckover, each taking a turn for the finish honors. At the end of the day, Nelson was in 1st, followed by Peckover, past champ Jim Young from Colorado in 3rd, and Paul Miller in 4th.
On day two, the weatherman threw out the book and delivered nasty, puffy, shifty, strong winds that Doug Peckover completely dominated. His three bullets in very trying conditions sealed the championship for him. Geoffrey Nelson sailed solidly enough to hold on to 2nd by a point, over Isaac Kremers, who also had a great 2nd day with 3 2nds. Behind Isaac, Paul Miller also sailed very consistantly, 3 4ths, to hold his 4th place, while Jim Young slid to 5th overall with an unusual race 6 for him that featured 2 capsizes in the nuts puffs. Matching Young on points but losing the tiebreaker, was Top Junior Sam Ralston from Grand Rapids. The host club did get someone on the awards list, as Olivia Windemuller took the Top Woman position and the new Fighting Lady trophy (see story below).
Trophy winners left to right in photo: Standing; Doug Peckover, Paul Miller, Geoffrey Nelson, Isaac Kremers, Sam Ralston, Olivia Windemuller. Kneeling in front, Jim Young.
Thanks to Regatta Organizer Patrick Reeg and all his staff, as everything went smoothly and left everyone headed home tired from good hard sailing.
---
2013 Long Lake Vs. Lake Du Bay Butterfly Challenge

Sixteen butterfly's were on the water for the 3rd Annual Long Lake Vs. Lake Du Bay Butterfly Challenge on Saturday, June 15th. Long Lake utilized home lake advantage and 9 sailors vs. 7 sailors for Du Bay to put an end to Lake Du Bay's run at a three-peat in this friendly yet competitive inter-lake challenge. Final score was Long Lake 221 - Lake Du Bay 304.

The day started with light winds, but by the time the first race began the wind started building and the racers were blessed with medium to medium light wind which put a high emphasis on getting your boat speed up and then looking for areas of higher pressure to keep your boat moving fast. The races were tight and the sailors enjoyed having their typical competitors as teammates. No one sailor dominated all of the races. Each race had a different individual winner. Joe Terry and Ed Peck of Lake Du Bay won races 1 and 5 respectively. Mike Cervinka, PJ Hildebrand, and John Stevens of Long Lake put up the bullet for races 2, 3, and 4. Nine different sailors had at least one top 3 finish.
After the race there was a wonderful chili dinner on Bill and Sue Ziemer's Deck overlooking the lake. There were plenty of beverages, food and socializing. Eventually before heading back out of town, lake Du Bay presented Long Lake with "inter-lake champions paddle" and, as has become a tradition, there was a group photo with all participants.

Long Lake is located in East Central Wisconsin 15 minutes South of Waupaca and hosts 6 different events for butterfly's each year (3 One Design and 3 Multi-Class). The next event is the Long Lake Open on Saturday, July 13th. Last year there were 26 boats for the event. This year we are hoping for more. Entry for events is free for the first year and we hope you'll join the club the following year for the modest $60 annual membership, which includes 5 socials with food and beverage plus races every Saturday of the summer, except 4th of July weekend. Please visit www.llyc-wi.com for more info or e-mail or call LLYC Commodore Rob Jossart rjossart@mpcmech.com / (262)-818-3566.
---
A New Women's Championship Trophy for the Singles
A new trophy has been donated to the class, to replace the old trophy "Top Woman" that had simply become too small with no way to easily update and enlarge it.
The Fighting Lady Trophy is being donated by Pam Newton, the 2012 winner of the "Top Woman Singlehanded Butterfly Championship" trophy. Both engraving plates were full and there was no room to add another name. It appeared to be the proper time to replace the trophy with a more suitable "Woman's Single-Handed National Champion" trophy that can grow the same way as the overall National Champion trophy has grown over the years.
The Fighting Lady is a Butterfly that has remained in the same family and has a history that goes back to the mid-sixties. The boat sailed in her first nationals in 1973 at White Rock Lake in Dallas, TX. She was sailed by Robert Balboa Jr. and came in 28th.
A few years later she was moved to the shores of Lake Ray Hubbard in Forney, Texas where she was left outside and subjected to weather, kids and makeshift repairs until she struggled to even remain afloat. For 30+ years, Robert and Pam's father kept her in the hopes that she would be raced again.
In 2008, Pam began sailing Butterflys and also ran into Robert's best friend from his sailing days. Ben Miller from BM Boatworks in Kemah, TX had even sailed the boat a time or two as a kid and agreed to try to restore her to racing condition. The fiberglass was soft, the hull warped, and the floatation waterlogged but Ben worked his magic. Wanting to restore her to her original color, the closest color available was Interlux's Fighting Lady Yellow. So the boat sort of named herself … and when she and Pam won the top woman trophy in 2012, almost 40 years after sailing in her first nationals which coincided with it being time to replace the trophy, she sort of named the trophy as well.
This trophy is dedicated to Robert D. Balboa, Sr. (1929-2003) and the Fighting Lady, both of whom never gave up the dream of racing again.
Thanks Pam!
---
Its 2013, and that means there are new Racing Rules of Sailing
Click here to download a pdf of the study version of the new Rules, with changes highlighted so you can understand what has changed.
---
Another new fleet ~
One of Wisconsin's active scow clubs, Long Lake Yacht Club, has joined the current fleet roster. They have had M16s there for many years, and have more recent MC and Butterfly fleets. They have hosted an interclub Butterfly regatta for a couple years, with the fleet from Lake Du Bay.
---

Racing Rules of Sailing 2012 edition
The new Racing Rules of Sailing - ISAF edition - are available at direct from the source, the ISAF site at sailing.org. There are changes from the 2005 edition, the link here will give you a pdf with all the changes highlighted.
Knots
An animated guide to tying all the knots you'll ever need on a sailboat. Fun learning tool.
---
Does anyone have news about some of the early pioneers of the class? News clippings from early events? We'd like to hear about it, send an email to the Butterflyer.
---
The Butterfly sailboat is one of the originators of the "one-design" sailing concept. In existence since 1962, the class is virtually unchanged, with only updates to hardware and fittings with new materials plus refinements and innovations in the internal structure to make a stronger, longer-lasting boat. Over 10,000 boats have been built since then, with the boat finding its way to cottages as a vacation boat, at home as a family recreation boat, in yacht club programs as a very successful junior training boat, and in racing, where the class has men, women, youth to masters, all competing together equally on a boat where the biggest single difference is the sailor.
---
This site Copyright © 1998-2012
Jim Young
all rights reserved